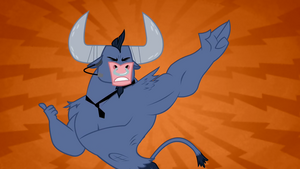 Iron Will was a First Era minotaur, specializing in extremely aggressive and enthusiastic motivational speeches. He made a small fortune on his personal pony coaching, before marketing his "Iron Will's Muscle Oats" brand of athletic supplements.
His company, Iron Will's Pony Performance Products, was a sponsor of Rainbow Dash.
His genetic material, stored at Amity, is the only known sample of minotaur DNA. Thus, even at the end of the novel, their species seems doomed. No known females exist.
Ad blocker interference detected!
Wikia is a free-to-use site that makes money from advertising. We have a modified experience for viewers using ad blockers

Wikia is not accessible if you've made further modifications. Remove the custom ad blocker rule(s) and the page will load as expected.