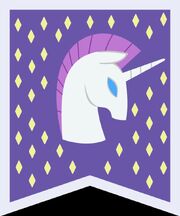 Unicorns are a breed of pony known for their ability to use magic. Their bones are used to make bonewire.

Their motto, as revealed in the Tribunal Hall, is "We Move the Heavens."
Through History
Edit
Pre-First Era
Edit
Unicorns were rumored to have raised and lowered the sun and moon in exchange for food from the earth ponies and pegasi weather control. They constituted a society obsessed with aristocracy and status, and were generally disliked by the other tribes.
First Era
Edit
Second Era
Edit
Third Era
Edit
Fourth Era
Edit
Noted Unicorns
Edit
Second Era magician that survived into the Fourth Era by using Fate Magic.
Ad blocker interference detected!
Wikia is a free-to-use site that makes money from advertising. We have a modified experience for viewers using ad blockers

Wikia is not accessible if you've made further modifications. Remove the custom ad blocker rule(s) and the page will load as expected.